In September, NY Coo Gallery features a solo exhibition by Kunio Iizuka
Kunio Iizuka in 1995 held a solo exhibition putting forth his anti-nuclear theme at the United Nations Headquarter in New York and in 2007 a solo exhibition at the Ritsumeikan University's Kyoto Museum for World Peace expressing his rage toward society and mankind. Conversely, the source of this rage comes from his strong yearning for peace and a time of calm which can be evidenced in his works.
This solo exhibition at NY Coo Gallery differs from these previous exhibitions expressing Iizuka's call for humanitarianism with his depiction of icons portraying the purity in female figures, nudes embodying maternal love, and birds symbolizing hope. These works in his Mandala Series explores Buddhist viewpoints of the world.
In the 1970's, Iizuka as a sculptor was a communicator of the New York art scene to Japan. As a painter, he created his distinct two-dimensional expression and made prints using a variety of techniques, and actively participated in group exhibitions. As the president of the Japanese Artist Association of New York, he continues to encourage the next generation.
Many of the works have never been shown. NY Coo Gallery in appreciation of this opportunity to hold this solo exhibition invites you stop by.

Kunio Iizuka
1936 Born in Japan
1964 Studied at the Otis Art Institute in Los Angeles
1964 Came to New York
1968 Taught sculpture at the Art Students League of New York
1973 Establishes the Japanese Artists Association of New York
1998 Awarded the Konjohosho (Metal with Dark Blue Ribbon for contribution to culture) by the Japanese Government
Currently serves as the president of the Japanese Artists Association of New York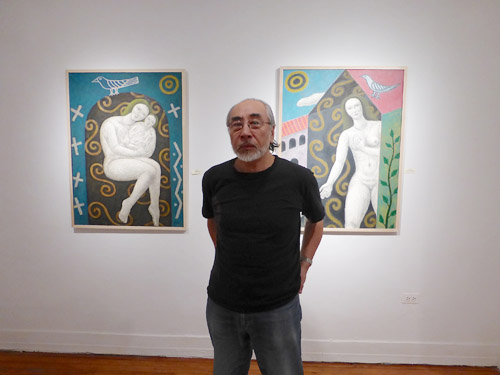 üÜ NYCoo Gallery invites you to come see TOPPI (ô╦ö˛) NYC's newest necklaces
from the Ghana Series and for the first time Nihonga Series.