In March, NY Coo Gallery will hold an exhibition "Paved Paradise" by Mark Bischel and a group exhibition of Japanese artists curated by Fugetsusha Gallery.
1) Mark Bischel: Paved Paradise
Mark Bischel sees poetry in the empty spaces of New York City. In the series Paved Paradise, he focuses on stark, open parking lots that are being filled in slowly by the mechanisms of overdevelopment. These once maligned gaps created by tearing out the urban fabric, have become precious spaces of light and air. Ironically, these spaces are now being filled back in by developers speculating on soaring property values. Bischelfs work is not only a homage to this vanishing feature in New York City but a meditation on the unexpected beauty and mystery of the humble parking lot and their solitary attendants who inhabit small shelters in the context of a larger space filled with light and shadow. Beyond the silent presence of the individual attendant is often a glimpse of a larger world, beckoning and just out of sight around the corner.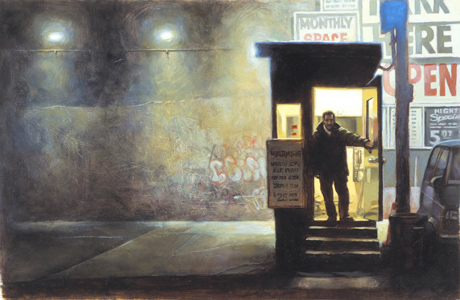 Mark Bischel "On 21st street / Man In a Box" Medium: Acrylic and Oil on board, Water based Screen Print on Rives BFK printing paper

2) Japanese Contemporary Artists Exhibition #6 Presented by Fugetsusha
In this exhibition, most of the works by the 14 artists are Oil Painting, Pastel, Indian Ink, Calligraphy and Mixed Media
Please visit this exhibition to see and feel the passion of these artists.
Artist Names: Sakae Inamiya, Kumiko Saeki, Emiko Kato, Tsukushi Fujimura, Hiroshi Mikami, Kyoko Kudo, Keiko Iiduka, Genji Suzuki, Akiho Segawa, Mitsuno Yuki, Toki Miyazaki, Masaaki Ito, Kanan (Ueki), Katsuyasu Ishikawa
top image: Emiko Kato "Cosmic Symphony from galactic light " Pastel 24X22 inches uƒRƒXƒ'ƒVƒ"ƒtƒHƒj[ Œυ'Μ‹β‰Ν'©'ηv
š Necklaces by TOPPI ("Λ"ς) NYC's Murano Series continue . http://www.nycoo.com/toppi/