In May, NY Coo Gallery presents the artist Miki Naganofs solo exhibition gLayers of Color.h Born in Japan, she studied printmaking at Tama Art University in Tokyo, Philadelphia College of Art, and Pratt Graphic Center in NYC. She currently lives and works in New Jersey. Though her work is centered in the areas of NYC, Boston, and Philadelphia, she has shown her pieces at exhibitions in Europe, South America, and Asia.
Using multiple plates, she explores layers of color. Each layer is carefully placed, allowing the impression of light to emerge through negative spaces and fissures. Using scenes from nature as inspiration, she makes images that resemble the way water and air and trees and ice capture light.
Each work is a distillation of surroundings and sensations. On a warm muggy day, she creates portals beneath azure ocean waves. On a cold night, she creates intimate projections of trees. Instilled with playfulness, chaos, and restraint, her pieces depict blooms and lakes of her time.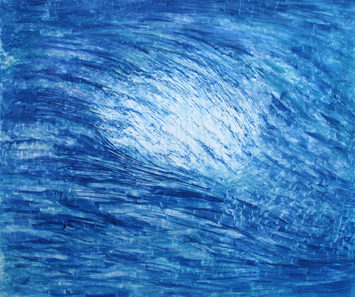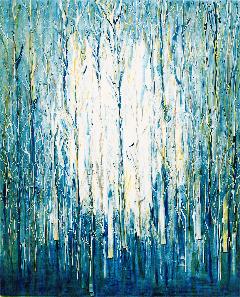 top image: "Elements-II" monoprint with drawing 27"x20"
left image: "Mid-Ocean Window" monoprint 23"x19", right image: "Surroundings" monoprint 19"x23"
œ Necklaces by TOPPI ("Ë"ò) NYCfs Hitoshi Nakazato Series continue.