Sculpture (stone, wood, and metal), Carbonized plant, Wood craft, Oil painting, Japanese-style painting, Illustration
Mixed media, Silk screen, Paper cutouts, Tolepainting
KANAZAWA is a castle city that prides itself on more than 400 years of history and culture. The policy of cultural promotion by the lord of Maeda in the Edo era generated great techniques and sensitivity for art, craft, entertainment, tea ceremony, and flower arrangement. Fortunately, as Kanazawa was damaged neither during World War II nor in the earthquake on March 11th this year, its spirit of high artistic quality has been uninterrupted.
Kanazawa College of Art was established in 1946, immediately after the end of World War II, with a vision of art education as necessary for the new Japan.
Those who spent their youth years here inherited Kanazawafs ggene of beauty.h The current Kanazawa pursues newer sensitivity and in 2004 opened the 21st Century Museum of Contemporary Art, Kanazawa, which is establishing a worldwide position as a modern art museum representing the spirit of the city to all. Kanazawa is a fascinating city that combines old and new.
The alumni of Kanazawa College of Art have excelled in art activities, including many solo or group exhibitions in Tokyofs Ginza area since 2004. Now that excellence expands its scale to three places: Ginza, Kanazawa, and New York. In September 2011, 162 exhibitions will be opened and more than 1,100 artists will join!
Here in New York, there will be two exhibitions: one at Onishi Gallery on 26th St., and a group show at NY Coo Gallery with 21 Kanazawa College of Art alumni of many generations and from many different areas of artistic activity, but gathered in the same KANAZAWA SPIRIT.
Please see the spirit of Kanazawa | gKanazawafs gene of beautyh as it has evolved in the 21st century.
| | | | | |
| --- | --- | --- | --- | --- |
| Artists: | | | | |
| ODAGIRI, Akira | HISANO, Ryoichi | OKUMURA, Yoshitsugu | SUZUKI, Haruo | FUKAMURA, Yasuko |
| NAKAI, Yaeko | YOKOYAMA, Toru | SAKUMIYA, Takashi | YOSHIDA, Noboru | MOTOYA, Michiko |
| IKEGAMI, Susumu | MURASE, Mariko | NAKAGAWA, Hiroshi | YASUDA, Kaoru | AOKI, Conami |
| HAYASHI, Yasushi | HAYASHI, Ippei | WATANABE, Hideaki | ISOGAI, Yasutaka | YASOSHIMA, Kaito |
| IKEDA, Ai | | | | |
----------@

The scene from the Exhibition

@------
Art Works' Photo Album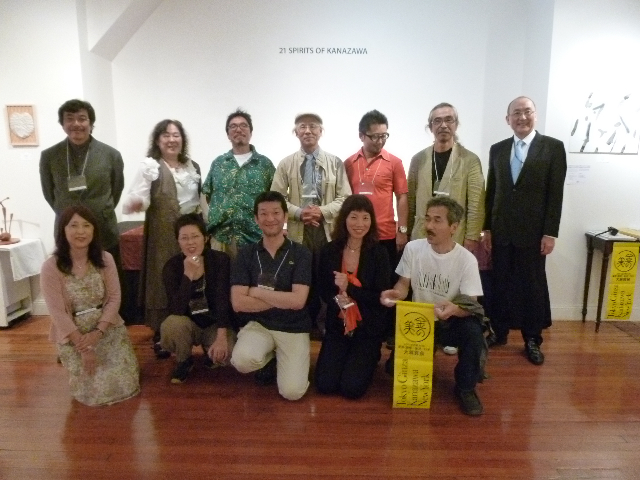 NY Coo Gallery