"Antiques and Crafts"
NY Coo Gallery's May exhibition is entitled "Antiques and Crafts" featuring Asian Art II, antiques curated by Ryoichi Iida, and debuting for the first time bead accessories under the brand "ton-demo-nai."
Antiques (Asian Art)
Meiji Period hanging scrolls, ceramic dishes, lacquer bowls and ojyu (multi-tier food boxes), metal and wooden trays, and more are on display for sale. 18th century sake cup from the Kakiemon kiln with colorful motifs painted on delicate almost transparent white porcelain, mukozuke set of 5 dishes from the Karatsu's famous Nakazato Taro Kakiemon [Tarokakiemon?] kiln, sterling silver chirori (sake decanter for cooling and warming), and more are available. Please enjoy using antiquewares as a way to enrich daily life and transcend time.
The hanging scroll by Kobayashi Kiyochika (1847-1915) is said to be "the last Ukiyo-e artist" from the Meiji Period. He quickly became famous for his landscape paintings of ray of light" with their nuanced depiction of light and shadow, but after the 14th year of Meiji [1881] he stopped painting light rays all together and devoted himself to painting what is called ponchie, a form of satirical paintings. The humorous portrayal of the common people in everyday life situations connects to contemporary manga.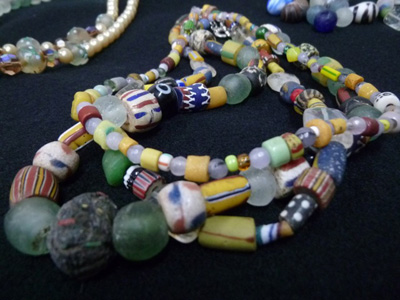 Crafts (ton-demo-nai)
In Japanese, tondemonai means 'oh good grief, oh no' an expressions of consternation at something that defies convention. This rebellious and free spirit is the inspiration of a new line of accessories. 'ton-demo-nai' accessories combine the new and the old, semi-precious and humble, beautiful and ugly (and who's to say what's beautiful or what's ugly), loud and quiet beads from different cultures to create new looks based on concepts of art history and expressions in cultures.
Beading like painting combines colors, lines, and textures to create images to wear. As in paintings, each piece is different in the subtleties of expression especially due to the limitations in the availability of the older beads giving spontaneity to the accidental happenstance.
Ghana Series is named after the delight in finding them for the first time at a flee market. They tend to be hefty and are rearranged to be worn with a black cocktail dress or a T-shirt and jeans. They are strung in ton-demo-nai unexpected combinations with other types of beads.
"Living in Manhattan, I frequent galleries, museums and antique stores, but the more exciting are the flee markets, thrift stores, the Salvation Army, and in the street where there's always surprising stuff to discover. I hope you enjoy the delight I find in my creative process" says the artist.
In addition on display is a group exhibition of paintings by Hitoshi Nakazato, Kazumi Nakane, and Keico Watanabe.
Please note that gallery hours are different from before.
NY Coo Gallery